CT-3000/CT-3000FP High-performance Flux Vector Inverter
1. Open loop vector, closed loop vector and V/F control can be selected.
2. Starting torque 0.5Hz/150% (SVC); 0Hz/180% (FVC).
3. Built-in simple PLC and control terminals can be used, up to 16-segment control can be performed.
4. V/F separation control can be used.
5. Built-in RS-485 communication.
6. Built-in PID control & automatic voltage adjustment (AVR) function.
7.10 kinds of auxiliary frequency sources, which can flexibly assist in frequency fine-tuning and synthesis.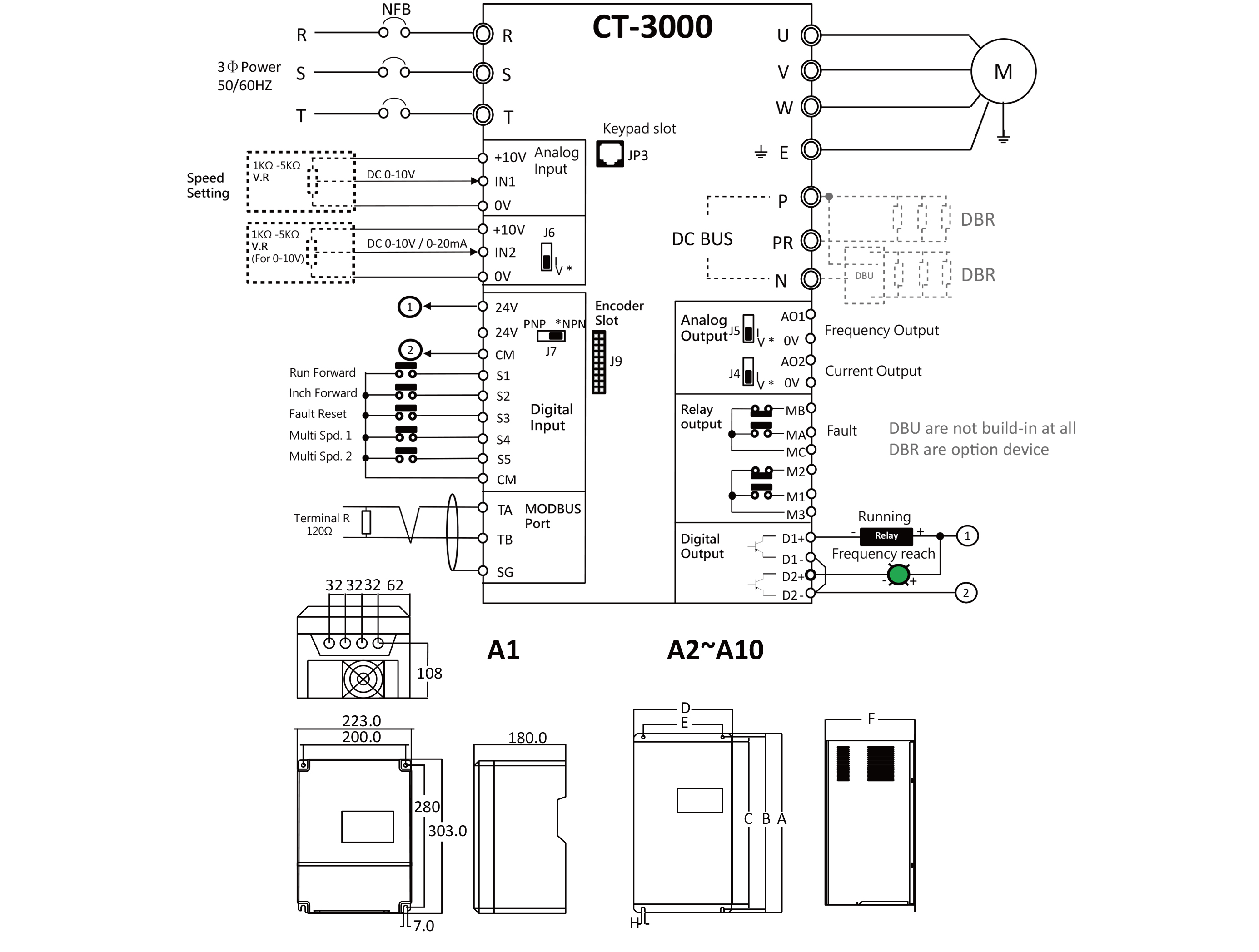 | (Unit:mm) | A | B | C | D | E | F | G | H |
| --- | --- | --- | --- | --- | --- | --- | --- | --- |
| A2 | 430 | 414 | 401 | 244 | 190 | 217 | 7 | ø7 |
| A3 | 472 | 456 | 441 | 260 | 208 | 258 | 7 | ø7 |
| A4 | 492 | 477 | 466 | 283 | 200 | 289 | 7 | ø7 |
| A5 | 560 | 546.5 | 523 | 330 | 246 | 315 | 7 | ø7 |
| A6 | 699 | 679 | 688 | 408 | 270 | 323 | 10 | ø10 |
| A7 | 928 | 908 | 872 | 530 | 350 | 323 | 10 | ø10 |
| A8 | 1162 | 1142 | 1106 | 530 | 350 | 335 | 10 | ø10 |
| A10 | 1533 | 1504 | 1465 | 721 | 440 | 415 | 12 | ø12 |
200V Series
Motor Power (KW)
3.7*
5.5*
7.5*
11
15
18
22
30
37
45
55
75
93
112
Output Current (A)
18
23
33
48
61
75
86
125
150
170
210
278
330
390
Input Voltage (V)
3ø200~230V ± 10% 50/60HZ ± 5%
Cooling System
Forced air cooling
Frame
A1
A1
A1
A2
A3
A4
A4
A5
A5
A6
A6
A7
A7
A7
Weight (Kg)
8
9
10
14
20
22
22
45
45
65
65
70
70
70
*Build-in Dyanmic Braking Unit(DBU)
400V Series
Motor Power (KW)
3.7*
5.5*
7.5*
11*
15*
18
22
30
37
45
55
75
93
110
132
160
187
225
262
315
400
450
560
635
Output Current (A)
9
13
17.3
24
31
39
52
65
78
93
110
156
180
225
260
305
370
460
530
610
700
800
900
1120
Input Voltage (V)
3ø380~460V ± 10% 50/60HZ ± 5%
Cooling System
Forced air cooling
Frame
A1
A1
A1
A1
A2
A3
A4
A4
A5
A5
A6
A6
A6
A7
A7
A7
A8
A8
A8
A10
A10
A10
A11
A11
Weight (Kg)
9
9
9
9
14
14
23
23
40
46
50
55
60
70
93
95
123
123
123
200
200
200
330
330
*Build-in Dyanmic Braking Unit(DBU)
Product Catalog -
CTS-320/CT-3000 High-Performance Magnetic Vector Inverter